Shake Away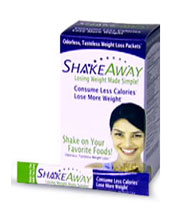 Shake Away is the amazing all-natural diet solution that lets you lose weight while still being able to enjoy the foods that you love.
It is weight loss made simple. You just shake powdered Shake Away on your favorite foods for fewer calories but all the taste.
The special formula in Shake Away is designed to  help you reduce your calorie consumption while helping you absorb less of the fats you consume in your meals. 
ShakeAway is the first odorless and tasteless dietary supplement that you simply sprinkle on your favorite foods to help promote weight loss.
It has been proven to help speed up the time it takes food to pass through the intestine, therefore reducing the absorption of certain food compounds that cause obesity.
Shake Away comes pre-packaged in single servings for your convenience. It will work on all your favorite foods whether they are sweet or salty.
Get the Flash Player to see this player.
You can order a 1 month supply of Shake Away for $89.99 plus the cost of shipping and handling. You'll receive a Healthy Recipe Guide for Success and a Fitness for Couch Lovers exercise guide free with your order.
Or you can take advantage of a buy 2 get 3 free offer and get a 5 month supply of Shake Away for just an average price of only $31.99 per month.
Update: This offer has expired