QuickTrim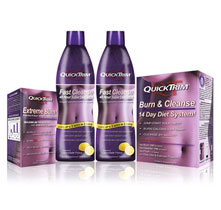 Discover Kim Kardashian and Khloe Kardashian's secret for looking slim and sexy with the QuickTrim Diet System.
It can help you get the bikini body you've always wanted by burning off calories, supporting your energy levels, and supercharging your workouts.
The main part of the diet system is QuickTrim Fast Cleanse. It is a delicious lemonade flavored drink that is designed to detoxify the body and get rid of excess water weight, belly bloating and intestinal buildup.
Another part of the QuickTrim diet system is the 14 day Burn and Cleanse system. It is a 3-part system that is designed to jump start your metabolism to burn calories all day long and detoxify your body at night.
It contains Iso-Burn AM, Iso-Cleanse PM, and the Iso-Flush with Daily Diet and Exercise Program. Together they will have you looking slimmer and sexier in just 2 weeks.
Last but not least is the QuickTrim Extreme Burn supplements. This patented 8 hour diet formula can help you burn calories up to 300% faster and up to 8,000 more calories a month.
Get the Flash Player to see this player.
Order the complete Kardashian QuickTrim Starter Kit today for just $55.90 plus shipping and handling. It includes Burn and Cleanse and a bottle of Extreme Burn.
Or you can also order the QuickTrim Fast Start Kit with Fast Cleanse and Extreme Burn for just $39.90 plus shipping and handling.
Update: This offer has expired