BullsEye7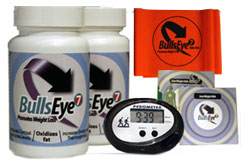 Shed away extra pounds with the BullsEye7 fat blasting supplement. It is a breakthrough weight loss formula that can help you shed pounds.
BullsEye7 is a cutting-edge, fat-oxidizing weight loss diet pillthat has a thermogenic formulation. The formula is designed to supercharge your body and help you burn fat.
When following the directions of the complete program, BullsEye7 can deliver substantial weight loss results.
BullsEye7 is doctor endorsed and contains a patented ingredient that has been clinically shown to lower Cortisol and stress levels.
High Cortisol and stress levels often cause us to overeat, wanting fattening foods and has a strong correlation to increased belly fat.
Many researchers believe that stress is also one of the main causes of binge eating. Now you can safely reduce your appetite and stop letting your mood affect your hunger.
BullsEye7 works to lower stress and Cortisol levels to prevent overeating. In addition it targets the belly fat, increases energy, combats fatigue , and safely suppress appetite.
Get the Flash Player to see this player.
The BullsEye7 Starter Kit includes 1 Bottle of BullsEye, a Digital Pedometer & Exercise Band,  a Recipe Guide & Meal Plan, and a Personal Exercise Plan. It costs just $49.95 plus shipping and handling.
You can also take advantage of a special buy 2 get 1 free offer with the Enhanced Jumpstart Kit. You'll receive everything in the Starter Kit plus 2 additional bottles of BullsEye7 for only 109.90 plus shipping and handling.
Update: This offer has expired