Slim Away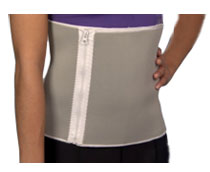 Get the slim and trim look you've always wanted with the Slim Away. It is an adjustable slimming garment that trims inches off your waist instantly.
All you have to just put it on, zip it up and your belly's gone. No one will be able to tell that you wearing but will notice your slimmer figure.
You can fit Slim Away under almost any outfit and look slimmer and sleeker. It works great for both men and women.
The Slim Away is made with a Evopawrap Fabric that seals in body to help you lose water weight. You can even use it while exercising for better weight loss results from your workouts.
Slim Away is designed to be one size fits all. It is adjustable to fit any waist from 22 inches to 50 inches and has 5 zipper closures you can adjust as you slim down
Plus the Slim Away belt fits under your clothes for a comfortable fit while also providing back support. It goes around your midsection comfortably and won't hinder your movement.
Get the Flash Player to see this player.
The Slim Away normally sells for $10.99 plus shipping and handling but currently there's a buy 1 get 1 free offer which is available.
You'll receive a second Slim Away belt for free with your order. You just have to pay the extra shipping and handling cost for it.