Cozy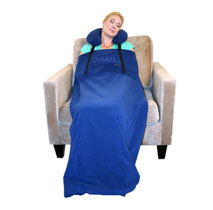 The Cozy Premium Comfort System is the most versatile comfort system in the world. It will keep your arms, neck, and shoulders completely relaxed.
Each Cozy is handcrafted with high-quality fleece that gives it a super luxurious and soft feel.
The Cozy is great for quick naps. It lets you sleep comfortably on your couch or watch TV in your favorite chair in comfort.
With the Cozy you get a one size fits all solution that will keep anyone warm and comfortable. It is perfect whether you're resting at home, relaxing in your car, in your car, the office, on a plane, or in any other locations.
Get the Flash Player to see this player.
The Cozy Premium Comfort System comes with a Neck Pillow, Arm Hammock with iPocket, Ultra Soft Large Fleece Blanket, and Collapsible Travel Case for just $19.99 plus shipping and handling.
But there's more. You can also receive a free Eye Mask with Massaging MicroBeads, Inflatable Travel Pillow Insert, and Fleece Scarf with your order. You just have to pay the additional shipping cost.