Fuel Shark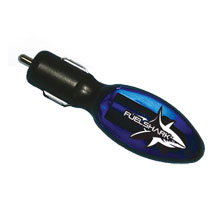 Take a bite out of your car's gas bill with the Fuel Shark. It can help increase your gas mileage, provide cleaner emissions and increase horsepower.
The Fuel Shark is extremely easy to install. All you have to do is plug it into your car's cigarette lighter adapter. A blue light will come on to let you know it is working.
You can use the Fuel Shark on automobiles with both gas and diesel engines. Once you plug it in, it start working almost immediately.
How the Fuel Shark works is simple.  The components in your car's electrical system are interconnected and for optimal performance, a clean electrical circuit environment is required.
However over time, many cars start develop various electrical imbalances . This can lead to a reduction in the gas mileage and overall performance of the car.
The Fuel Shark is a multi-purpose voltage stabilizer that helps stabilize a car's electrical system. By providing a cleaner electrical enviroment, it helps improve gas mileage, power and even produces cleaner emissions.
Get the Flash Player to see this player.
You can order the Fuel Shark for $29.95 plus the cost of shipping and handling. It is an expensive way to to save money at the gas pump and help the environment at the same time. Users have reported saving as much as 15% to 20% on gas by using the Fuel Shark
Update: This offer has expired