Matthew Lesko's Free Government Money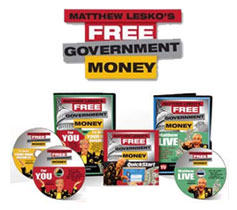 Discover how you can find free money that you can qualify for from the government with Matthew Lesko's Free Government Money Mentoring System.
You can find government money to help you start a new business, cover health care expenses, help pay off debt and more.
There's also grants for going to back school and learning new skills for a job with a future.
Matthew Lesko knows where the free money is and now you can to with his Free Government Money Mentoring System.
The system includes online access to over 15,000 free government programs and has free application support to fill out your grant requests.
You'll also get complete access to video library, 1 on 1 mentoring with answers to all your questions, free webinars, and much more.
Get the Flash Player to see this player.
Order the Free Government Money system now for just $39.95 plus shipping and handling. You'll receive 30-day online access and a 3 free bonus DVDs. They include the Lesko Quick Start DVD, Free Government Money For You DVD, and the Free Government Money For Business DVD.
Update: This offer has expired