Stamps.com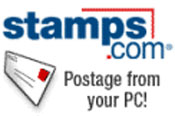 Stamps.com is the online postage on demand service that lets you print postage straight from you PC.
You'll have access to all the functions of the Post Office right on your from the convience of your desktop.
This include priting out stamps to shipping labels or from First Class to Express Mail on your computer.
Stamps.com gives you the power to print and manage your own postage like never before. Plus you'll receive discounts you can't get at the Post Office or with a postage meter.
You can print postage stamps, print postage right onto envelopes, print shipping labels and print international postage.
With Stamps.com you just click, print and ship. You could eliminate the gas-guzzling trips to the Post Office and save over 80% compared to a postage meters.
Get the Flash Player to see this player.
Plans for Stamps.com start at $15.99 a month. Currently now there is a 14-day free trial offer of Stamps.com available where you can try the service. You'll get $5 worth of postage to use for free.