Cash4Gold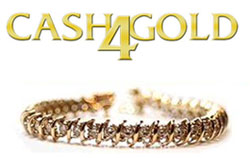 Cash4Gold is America's number 1 gold buyer and is the easy well to get quick cash for your gold and jewelry.
Getting cash for your broken and unwanted gold has never been easier with Cash4Gold. It is fast, easy and secure.
The process is simple.  First you just complete the online form to request your free Refiner's Return Pak.
When your Refiner's Return Pak arrives in the mail, just send your gold in the included pre-paid and secure envelope. 
Within a few days, a check will arrive in your mailbox. If you are no satisfied with the offer you can simply return the check or call within twelve days to have your items returned.
If you are in quick need of cash you can opt for the Cash4Today service and have the money directly deposited into your bank account.
Get the Flash Player to see this player.
Cash4Gold will buy all items that contains precious metals. This includes gold, silver or platinum.
Since they are a refiner that melts the gold directly and not a dealer, it means more cash for you.
Take advantage of the current Gold Rush Buying Spree and get 20% more cash for your gold today.