Foreclosure ID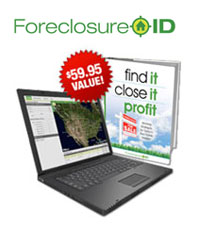 With Foreclosure ID you can start searching over millions of foreclosed properties nationwide.
Never before in history has there ever been so many foreclosure properties available at great bargains.
Foreclosure ID lets you find all types of properties including homes, apartments, vacation homes, commercial property, raw land and more.
It is simple and easy to use. The point and click online service could be used by anyone looking to invest, profit, and build wealth in the foreclosure market.
You'll get the first notice of pre-foreclosure listings in all 50 states across the US.
Plus you see vital information on each property, such as the last sale price, tax information, outstanding debt, and a complete profile of the local community.
Get the Flash Player to see this player.
Foreclosure ID costs $39.95 a month but right now you get a free 30-day no risk trial.
Plus you'll also receive the free step-by-step foreclosure investing manual; Find It, Close It, Profit with ForeclosureID. Just pay $9.95 for shipping and handling costs.
Update: This offer has expired