Fix It Grout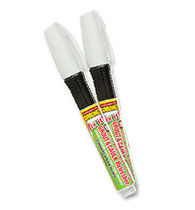 Fix It Grout from Simoniz lets you instantly restore old stained grout on contact. It covers up stains, dirt, and grime in no time.
With Fix It Grout there are no tools required , no headaches  and no hard labor needed.
All have to do is just  draw the line with the Fix It Grout Marker and it make the area white and bright again.
The scientific formula in Fix It Grout is designed to penetrate deep into the grout pores to kill the mold, mildew and bacteria that causes the stains on grout.
You can touch an entire bathroom shower in just 10 minutes with Fix It Grout. It is economical and easy to do.
Get the Flash Player to see this player.
Normally 2 Fix It Grout markers are $10 plus shipping and handling. But right now with this current offer you'll get 2 additional Fix It Grout markers free.
But there's more. You'll also get a bonus Simoniz Cordless Turbo Vac with nozzle extender, brush attachment, battery and recharger for free. You just have to pay the extra shipping.
Update: This offer has expired