Water Jet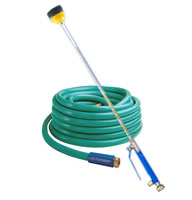 Now you can turn your ordinary hose into a power washer with the amazing Water Jet Cleaning Solution.
It easily connects to any water hose. Unlike other pressure washers, there's no gas or electricity required.
The Water Jet is made with high quality stainless steel, aluminum, and brass for powerful results and long lasting use.
With the Water Jet you can easily clean cars, boats, and RVs. Use it to remove built-up dirt and mold on wood or aluminum siding and concrete foundations.
You can also use it to blast away weeds and grime from brick and concrete patios, pool decks, and driveways with ease.
The high-pressure hose of the Water Jet allows you to reach 2nd story windows with ease. It has stainless steel valve that allows you to adjusts the pressure to the level you need.
Get the Flash Player to see this player.
You can order the Water Jet for only $19.95 plus shipping and handling. In addition, you'll receive a free Water Jet Brass Fan Tip with your order.
It transforms your Water Jet into a sweeping water broom. Use it to clean wood decks and patios. Or turn down the pressure to gently water delicate flowers and vegetable gardens.