Quick Lawn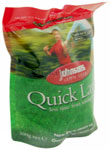 Quick Lawn not only grows quickly but multiplies rapidly to fill in bare spots, choke out weeds and give you a velvety evergreen carpet all 4 seasons long. There is a good reason Quick Lawn is the gardener's choice for grass seed.
You get a one pound bag of Gardeners Choice incredible Quick Lawn grass seed for just $19.95 and only $6.95 shipping and handling. If you are willing to pay an additional $6.95 for extra shipping costs, you can get another bag of Quick Lawn for free.
The 2 bag set of grass seed covers 1000 Square feet. All you have to do is sprinkle the seed and water, Quick Lawn does the rest.
Plus Quick Lawn withstands heavy traffic, resists insects and disease, tolerates shady spots and adapts to a wide range of soils from sandy to heavy clay.
Get the Flash Player to see this player.
Be the first in your neighborhood to have a beautiful lawn all year long. And if you're not completely satisfied for any reason simply return your package within 90 days for a full product refund. No questions asked.