Perfect Pancake Pan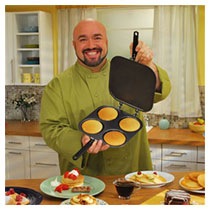 Making pancakes in a frying pan with a spatula can be slow and your pancakes often do come are shaped right. Plus not to mention all the oil and fat you have to use.
Well now there's a better way to make pancakes with the Perfect Pancake Pan. It is a fast and easy to use pancake maker that makes 4 perfect pancakes at the same time.
The pancakes will come out fluffy, golden brown, shaped perfectly, and without any added fats. You get not 1 but 4 perfect pancakes at once, saving you plenty of time when compared to making them in a frying pan.
To make pancakes with the Perfect Pancake you first just heat it up. Next pour in your favorite pancake batter. Afterwords close both sides together using the always-cool handles, which will remain cool to touch even after the Perfect Pancake pan is heated up.
After closing the Perfect Pancake pan you flip over once using the handles. Open the lid back up and your pancakes are now done. Since both sides is made with a non-stick surface, you can just easily slide your pancakes right out to a plate and their ready to serve.
Plus with the non-stick surface you also won't have to add fats like butter or oil to make your pancakes. So not only does the Perfect Pancake let you makes 4 perfect pancakes at once easily, it also gives you healthier pancakes too.
Get the Flash Player to see this player.
The Perfect Pancake Pan sells for $19.95 plus the cost of shipping and handling. Each one also comes with a free bonus Recipe Guide. The guide shows you different styles of pancakes you can make using the Perfect Pancake.
Plus with this current buy 1 get 1 free offer you'll also receive a second Perfect Pancake Pan free with your order. You just have to pay an extra shipping and handling fee for second free one.
Click here to get the Perfect Pancake Pan Buy 1 Get 1 Free Offer