Nuwave Perfect Green Fry Pan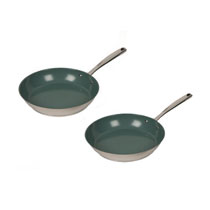 The Nuwave Perfect Green is a new green frying pan from the makers of the Nuwave Oven, one of the most popular and top selling infrared oven.
The Perfect Green Fry Pan is a non-stick pan that is designed to be healthier than ordinary frying pans. With other non-stick pans their coating can start to peel off over time and release harmful toxins into your food.
The Nuwave Perfect Green on the other hand has a special Duralon coating. Duralon is a natural and safe ceramic material that is extremely durable and also long lasting.
There is no PTFE-PFOA, Cadmium, BPA or other harmful materials used in the Perfect Green pan. You can cook your food without having to worry about any toxic gases being released.
Plus the Nuwave Perfect Green requires no added fats or oils to prevent sticking. You can say goodbye to "greasing the pan" and your family can eat healthier.
The Nuwave Pefect Green Fry Pan works on all stovetops. Plus it is also oven safe with temperatures up to 900 degrees, F.
Get the Flash Player to see this player.
A single 9″ Nuwave Perefct Green Fry Pan normally costs $29.95 plus shipping and handling but currently you can take advantage of a buy 1 get 1 free offer. You'll get a second Perfect Green pan free by paying for the additional shipping cost.
In additional you'll also receive a set of free bonus items with your order. You'll get the 5″ PerfectBlade Ceramic Knife with safety cover and a set of 4 stain and germ-resistant Flexi-mat cutting boards.