Ninja Kitchen Blender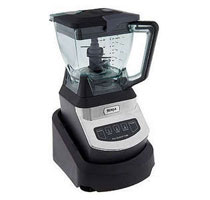 The Ninja Kitchen Blender is the ultimate kitchen system that provides you with tons of functions. The smart-speed technology and multiple blade system lets you blend, juice, chop, and mix just about anything.
You can use it for crushing ice, pureeing, and controlled processing. It even has the unique capability of kneading dough for pizzas, breads, pretzels, cookies and more.
The Ninja Kitchen System 1100 can also grinds seeds such as flax seeds, or nuts to make nut butter. Or use it to make healthy and tasty treats like frozen fruit smoothies, sorbets or ice cream.
Even juices made from the Ninja Kitchen system are better then those from a juice extractor. This is because Ninja contains both the juice and pulp from your fruits and vegetables, so you get all the nutrients.
Using the Ninja Kitchen System 1100 you can create all of your favorite recipes quickly and easily with just a single touch of a button.
It is like having a juicer, mixer, food processor and blender all in a single easy to use kitchen appliance. You can make healthy drinks and meals for you entire family.
Plus the smart design will ensure you get the best result every time. The Ninja 1100 will automatically adjust the motor speed to the consistency of the ingredients.
Get the Flash Player to see this player.
The Ninja Kitchen System 1100 comes with come with a 72 oz pitcher with lid, 40 oz bowl with lid, 6 blade assembly, 4-blade assembly, whisk, dough hook and dough paddle. Plus you'll also receive a free Blending Cookbook with tons of recipes.
It sells for 4 payments of $39.95 with free shipping and handling. Or you could just make a single payment of $159.90 with free shipping.