Eggies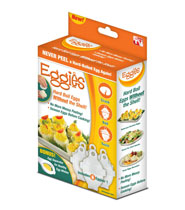 Hard boiled eggs are great and healthy but they can be hard to peel with messy shells. But not anymore with the Eggies System for Hard Boiled Eggs.
Eggies lets you enjoy a perfect hard boiled egg without ever having to peel a single egg shell every again. You can enjoy a nice boiled egg without any with the mess.
The special design of the Eggies lets you cook a hard boiled egg without the shell. You just crack and pour an egg inside and then twist the lid on to close it.
Afterwords you can just boil it right on your stove top. When it's done just twist the lid open again and you're ready to enjoy a delicious hard boiled egg without the shell.
This is because Eggies cooks your egg just like a real shell. With the non stick interior you can easily slide the egg out onto a plate. In addition Eggies cooks your eggs flat on the bottom, making it easier for you to decorate them if you want.
Eggies makes it extremely convenient for anyone to make a perfect hard boiled egg. It is great for busy working people, stay-at-home moms, babysitters, grandparents and more.
Get the Flash Player to see this player.
A single set of 6 Eggies generally sells for $10.99 plus shipping and also comes with a bonus Egg Slicer. But with this current buy 1 get 1 free offer, you'll receive an additional set of 6 Eggies and another bonus Egg Slicer for free.
That's a total of 12 Eggies and 2 bonus Egg Slicers. All you have to do is just pay for the extra shipping cost of the second free set.