Hooked On Phonics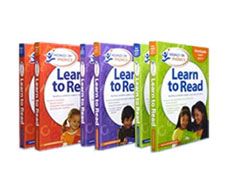 For over 20 years, Hooked On Phonics has been the premiere reading program and has helped children everywhere dramatically improved their reading skills.
Hooked On Phonics was created by skilled reading experts to help parents give their children the reading skills they need to succeed in school.
The simple step by step system is perfect for kids just learning to read, struggling to keep up, or ready to jump ahead.
Each lesson in Hooked On Phonics takes just 20 minutes or less and uses a simple and effective three step process. First the child learns the new words by watching the DVD and reading the workbook.
Next they practice the new sound combinations and words in the workbook. The last step involves putting all they learned together to read a great story that is written by an award-winning author.
Get the Flash Player to see this player.
The Hooked On Phonics system comes with 8 total DVDs, 36 Original Storybooks, 8 Workbooks fun and a Quick Start Guide. Plus it includes 8 "fun while you learn" workbooks to practice with after viewing each DVD.
Now there are also new online interactive tools that includes exciting games, printable worksheets and a personal progress tracker in order to further help your child develope their reading skills.
The Hooked On Phonics system is 4 easy payments of $49.99 but with this available trial offer, you can try it first for 30 days free risk by payying just $14.95. Plus just for trying Hooked On Phonics you'll receive the Advanced Reading Level program, a sing-along CD and a bonus DVD as free gifts that are your to keep.