Brainetics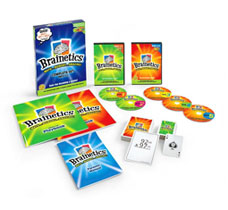 Brainetics is the breakthrough math and memory system that can help turbo charge your brain. It can help kids, adults, seniors and learners with special needs alike.
The Brainetics program use the power of mathematics in order to teach you how you can use both sides of your brain at the same time. This can greatly improve your processing capability and memory.
Normally one side of your brain processes information and the other stores information. By using them simultaneously you can excel in all subjects, including math, history, science, languages and more.
Brainetics was created by Mike Bryster, who  is a well known "mathemagician" that can dazzle just about anybody with his amazing feats of mathematics.
He believes in ingiting a passion for mathematics in children in order to unlock their learning potential and help them succeed later in life. This is why he created the Brainetics program.
In just 20 minutes a day, it can help kids and adults develop a mega-memory, master amazing math feats, unlock learning potential and develop the confidence needed to succeed.
Get the Flash Player to see this player.
The Brainetics Core Kit comes with a total of 5 Fun and Educational DVDs, a 64-page workbook, the Brainetics Manual for Parents, a deck of Brainetics Playing Cards, and a deck of Brainetics Custom Flashcards.
Plus you'll also receive full access to Brainetics Mobile. It allows you to view Brainetics lessons on your iPhone, iPad, other smart phones and tablet devices.
You can order Brainetics for $149.99 with free shipping and handling. Or you can take advantage of a trial offer and try Brainetics for 14 days first, risk-free. You just have to pay $14.95.