PurePro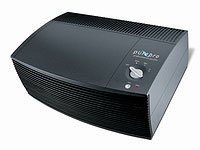 The PurePro professional air purifier is the industry standard in air purification. It Ideal for medium to large rooms, as the Pure Pro literally removes the airborne contaminants that can make you sick down to .01 micron. This leaves the air you breathe fresh, clean and healthy.
The 5 stage purification process of the PurePro delivers the highest clean air rating of air purifiers. And it does so while being whisper quite. Forget the loud and noisy air purifying systems.
The PurePro can effectively remove  microscopic particles such as mold spores, bacteria and viruses. It Captures allergens such as pollen, dust, dust mites, pet hair, pet dander and other pollutants. It aslo filters cigarette smoke, pet odors and chemical fumes while revitalizing the air.
The 5 stage air purification process of the PurePro are:
1. The pre-filter. Traps large particles such as hair and lint.
2. The positive charging wires. Uses electricity to positively charge small particles such as dust, smoke and pollen.
3. The electronic precipitator. Collects particles like a magnet.
4. The Oxygen Plus filter. Absorbs odors and turns smog and ozone into pure oxygen.
5. Ion boost. Emits negative ions to freshen the stale air returning clean, pure air into the room.
Get the Flash Player to see this player.
The cost of PurePro is 4 payments of $49.95. Right now you can try the PurePro 30 days by paying $19.95 for shipping and handling costs.
Order today and get an Ionic Pro Mini, a $25 value, as a free gift. Use it to deliver freash clean air to small indoor environments.