Porta Book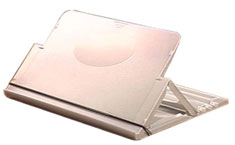 Porta Book is the ergonomic and multifunctional laptop, book, and document stand. It is great for home or work and kids as well.
Using the Porta Book is good for you posture and reduces the heat of your laptop at the same time.
The sturdy and creative design of the Porta Book stand is extremely durable. It is strong enough to support the weight of a portable laptop and can also be used to support various books of different sizes.
Porta Book has two elastic bands that help hold a laptop computer in place or keep a book open that tends to close. They help stabilize laptops from sliding beyond the curved support at the base of the Porta-Book.
Porta Books are made in Italy with  high quality and non-toxic, recyclable, polypropylene with a mix of metal powder.
Get the Flash Player to see this player.
Right now when you order a Porta Book for $19.95 plus shipping and handling, you'll also receive a free WiFi Spot Detector. Use it to quickly see WiFi signal strength. Plus save $5 right with the current mail-in rebate offer.