MagicJack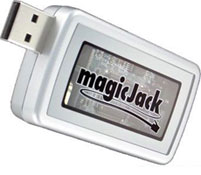 MagicJack is the amazing device that lets you make unlimited calls to anywhere in the USA and Canada for 1 low annual fee.
It is simple and easy use. MagicJack works with your existing computer and internet connection to give you unlimited phone calls.
You simply plug the MagicJack into the USB port on your computer and then plug in any household phone to the MagicJack. You can use your existing home phone.
MagicJack has received rave reviews in the media and has been named the 2008 Product of the Year for good reason.
Just like the Internet has eliminated the need for stamps and postal mail, with MagicJack it has eliminated the need for traditional phone lines.
MagicJack works with computers running Windows XP, Widows Vista, and Macs.
In addition to free local and long distance, you'll also get free directory assistance, a free phone number, free call waiting, free voice mail, and free caller ID.
Get the Flash Player to see this player.
MagicJack retails for just $39.95 plus shipping and handling, which includes 1 year free of unlimited local and long distance calling. Each additional year is just $19.95.
Since the company is so sure that you'll like a MagicJack, right now their willing to offer a 30-day 100% risk free trial.