Magic Mesh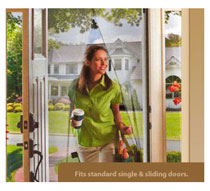 Keep the bugs out and the fresh air with the Magic Mesh Instant Screen Door. It is a new type of screen door that opens easily and then automatically closes itself behind you.
So even if hands or full or a family members always forgets to close door, the bugs are still kept out while fresh air can still enter your home.
Magic Mesh works because of a set of 18 strategically placed magnets. When you separate them, they'll automatically snap back together into place.
Now you no longer have to work about leaving your door open again and letting bugs in your home. At the same time, you can let cool air and even reduce your air conditioning bill.
A great thing about the Magic Mesh is that it's pet friendly too. Your dog or cat can enter and go as they please and the Magic Mesh will snap close right behind them.
Magic Mesh fits on standard single doors and sliding doors. It also works great on the doors of RVs too. You can install it in just seconds without having to use any tools, nails, or screws.
Get the Flash Player to see this player.
The Magic Mesh is valued at $40 but you can purchase one for just $19.95 plus shipping and handling. But there's more because right now there's a buy 1 get 1 free offer available.
You'll receive a second Magic Mesh for free if you pay for the additional shipping and handling cost of it.