EZ Eyes Keyboard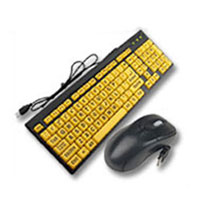 If you are having trouble reading the print on your keyboard and end constantly hitting the wrong keys then you need the EZ Eyes keyboard. It is a new large print keyboard that makes typing easy on your eyes.
The EZ Eyes keyboard is ergonomically designed and has big bold print on all 104 keys. The large print is four times larger than the print found on standard keyboard.
Combined with the high contrast colors and you can easily each and every key. The EZ Eyes is perfect for older adults and others with poor vision. It is also great for young children that are just learning the alphabet.
You can use EZ Eyes at home or the office in order to make typing easier, improve readability for less eye strain, and have better accuracy. You'll cut down on typing errors caused by trouble reading the keys.
The EZ Eyes keyboard works on both PCs and Macs. You just connect it to a USB port and it is ready to use. There's no complicated software or drivers that you need to install.
Plus the EZ Eyes keyboard is also spill resistant. It is designed so that any liquid spilled over it will drain right through and the keys will all continue to function like normal.
Get the Flash Player to see this player.
The EZ Eyes keyboard sells for $14.95 plus shipping and handing. Each one also comes with a free bonus Ergonomic Mouse. It is perfectly contoured to be easy on your hands.
But that's no all because currently there's a buy 1 get 1 free offer which is available. You'll receive a second EZ Eyes keyboard and Ergonomic mouse for free by paying the additional shipping and handling.
There's also a more expensive glow in the dark version version of the EZ Eyes keyboard which is available. It's great for those who regularly work on the computer at night and don't want to have the lights on.