Tag Away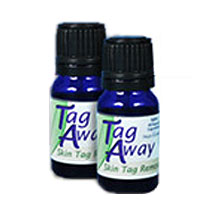 Tag Away is a homeopathic and all natural solution for removing skin tags. It is safe, effective, pain-free, easy to use, and works on all skin types.
The formula in Tag Away is made with a combination of all-natural plant extracts that help eliminate skin overgrowth. There are no chemicals used the product.
One of the main active ingredients is Thuja occidentalis.  It is an evergreen coniferous tree and the pure essential oil extracted from it has been long used for naturally removing skin tags.
To use Tag Away you just open the bottle, dip in a cotton swab, and then apply it to your skin tags.  Do this daily and in around 3 to 8 weeks and your skin tags will dry up and fall away.  It is completely pain-free and does not leave any scars.
The Tag Away Skin Tag Remover has been approved by the HPUS , the Homeopathic Pharmacopoeia of the United States. The organization sets guidelines for prescriptions and over the counter homeopathic treatments.
Tag Away is for use on skin tags only. If you have any other skin markings than you should see a doctor for treatment. Individuals who are seeking treatment for a specific disease should consult a physician first before use.
Get the Flash Player to see this player.
The Tag Away Skin Tag Remover is currently not available in stores and can only be purchased online.  A single bottle of normally sells for $19.99 plus the cost of shipping and handling.
But you can currently take advatnage of buy 1 get 1 free offer. You'll receive a second bottle of Tag Away for absolutely free. That's two bottles of Tag Away for just $19.99 plus shipping.