Nail Perfect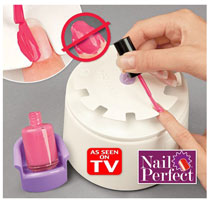 Get salon quality nails every time at home using the Nail Perfect. It lets you have a salon-perfect manicure without having to pay the salon prices.
The Nail Perfect provides you with a hand rest that makes it easy for you to apply nail polish cleanly and evenly, just like a pro.
The included Nail Disk has 9 different sized slots to provide a perfect fit for any size nail. You attach it to the Nail Perfect Base and select the slot that fits each finger the best.
Just slide your nail in and start painting your nails, beginning from the base. Any extra polish will end up on the disk and not on your finger. It could be easily wiped off with any nail polish remover.
The Nail Perfect is perfect for kids, teens, and adults alike. It can help you get your nails done in as little as half time and without any messes.
Plus the Nail Perfect Base also includes a built-in storage compartment that lets you store your nail polish and other small accessories. A Perfect Polish Chair which holds your nail polish bottle to prevent spilling is also included.
Get the Flash Player to see this player.
The Nail Perfect kit with the Nail Perfect Base , Nail Perfect Nail Disk, and Perfect Polish Chair sells for $9.99 plus shipping and handling. As a bonus, you'll also receive a set of 200 nail art stickers with your order.
But that's not all because currently there's a buy 1 get 1 free offer which is available. You'll receive an additional Nail Perfect kit for free by paying for the shipping cost. This means you'll get a total of 2 Nail Perfect Bases , 2 Nail Perfect Nail Disks, 2 Perfect Polish Chairs, and 400 nail art decals.