Living Well Pain Relief Spray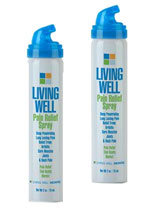 Spray the pain away with the Living Well Pain Relief Spray, endorsed by Montel Williams.
It is perfect for back and shoulder pain, knee and joint pain, arthritis, sore muscles, and more.
Pain Relief Spray delivers  fast acting and targeted pain relief to the areas that need it.
It was developed and formulated especially for you to provide safe and effective temporary relief of pain.
The formula is mad with all natural ingredients and there are no negative side effects. Plus it is non-greasy and does not leave residue.
Get the Flash Player to see this player.
Right now there is a special double offer available where you can get 2 bottles of Living Well Pain Relief for the price of one. The 2 bottles is  just $39.99 plus the cost of shipping. It comes with a 30 day money back guarantee.
Update: This offer has expired