Green Tea Supreme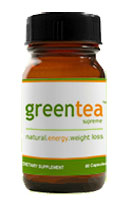 Discover the weight loss secret of the orient with Green Tea Supreme. Green tea has best selling weight loss solution in Asia for ages.
Green Tea Supreme can help you boost metabolism and energy levels, burn excess fat, lose pounds, and provide powerful antioxidants to fight free radical damage.
It is made with 100% all natural ingredients and comes in a convenient to take pill form. Each capsule contains the nutrients equivalent to drinking over a gallon of green tea.
Green Tea Supreme will help you burn fat and increase your metabolism naturally since green tea is rich with concentrations of catechin polyphels.
Catcehin polyphels is a unique natural compound that works with other chemicals to increase levels of fat oxidation and thermogenesis, aiding the body's fat burning process.
Get the Flash Player to see this player.
A 30-day supply of Green Tea Supreme retails for $63.96 but currently there is an exclusive online free trial offer available.
You can get a 15-day trial of Green Tea Supreme by paying $5.95 for the cost of shipping and handling.
Update: This offer has expired