Force Factor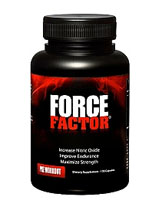 Get ripped fast with Force Factor, the ultimate muscle building supplement. It provides you with the energy, power, and strength you need.
The formula helps improve blood flow and oxygen delivery to the muscles while also enhancing focus and mental awareness.
Force Factor is used and endorsed by MMA fighter BJ Penn, Vernon Davis of the San Francisco 49ers and NBA Star Derrick Rose.
Unique to Force Factor is a scientific blend of amino acids that causes increased levels of nitric oxide in the body.
Nitric oxide helps move oxygen into your muscles when they need it most, sparking powerful muscle growth, strength gains and incredible, ripped pumps.
Force Factor is the first product without any harmful ingredients and stimulants in the market place for healthy body builders. There is no caffeine, no jitters, no sodium, or any other harmful additives.
Get the Flash Player to see this player.
A bottle of Force Factor lasts for 30-days and retails for $69.99 but right now there is a 14-day free trial offer available. You can try Force Factor by paying $4.99 for the cost of shipping and handling.