Cylapril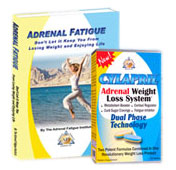 Cylapril is an adrenal weight loss system and the only product of it's kind to combat adrenal fatigue burnout. Cylapril will help you cleanse your adrenal system and shed weight off.
By taking Cylapril, you can have more energy, be in a better mood, and lose weight at the same time. The health of the adrenal system is often overlooked but is one of the most important systems in the body since it is responsible for many key functions.
The adrenal system is responsible for combating stress, managing energy, producing vital hormones, weight-control, and regulating blood sugar levels. When the Adrenal Glands cannot operate properly, many of the other functions of the body may suffer as a result.
Often times weight gain and the inability to loss weight, even after trying numerous diets or exercises, can be caused by fatigue of the adrenal system preventing it from operating properly.
The dual phase technology of Cylapril will first cleanse your adrenal system and then revitalize and repair your adrenal system.
Get the Flash Player to see this player.
There is currently a special 14 day trial offer of Cylapril where you can try the system by paying $9.95 for shipping and handling.
Or you can take advantage of the buy 2 get 1 free offer and get 3 months of Cylapril for just around $120.
In addition, for ordering Cylapril you will receive a free book on adrenal fatigue with both offers