Razor Thin Shaver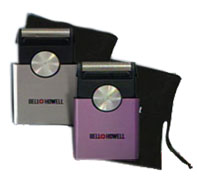 Get a clean and smooth shave everytime with The Razor Thin Shaver from Bell and Howell.
This ultra portable razor is great whether it is for at home use or when you are on the go.
The Razor Thin Shaver has a foil cutting system that adjusts to the contours the body. This give a precision cut every time.
It gets so close to the skin that it can cut even the hardest to shave hairs just like with a full-sized electric shaver.
Plus, this ultra thin portable razor is battery-charged, so you don't have to look for an outlet. Take it with where at the office, in the car, at the gym, or when camping.
Get the Flash Player to see this player.
The Razor Thin Shaver is available for both men and women. It normally retails for $19.99 plus shipping and handling but right now there is a special buy 1 get 1 free offer.
Plus each Razor Thin Shaver also comes with it's own carrying case. That means you get 2 Razor Thin Shavers and 2 carrying cases for just $19.99 plus shipping and handling.