Ez Combs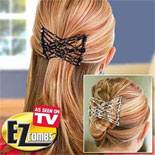 Ez Combs allows you to create dozens of dazzling hair styles instantly. They are stretchable double combs that fits and works on any type of hair.
EZ Combs are soft, comfortable, and perfect for any occasion. Whether they or weddings or formal events, in the office, or just going shopping.
They are even comfortable and sturdy enough to be used when jogging.
Using EZ Combs is as easy as 1, 2, 3. You just simply slide in one end of the EZ Comb. Next stretch it around your hair. And last just slide it on the other side. That's it!

Get the Flash Player to see this player.
With this special Internet offer you can get the Caramel Bronze EZ Comb, the Dazzling Silver EZ Comb, the Classic Bermuda Black EZ Comb, and a step by step DVD  all for just $10 plus $6.99 for shipping and handling. That's 3 different Ez Combs and an instructional DVD for just $16.99 total.