The Firm Express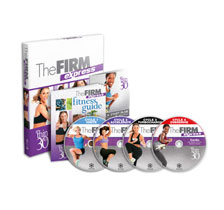 The Firm Express Get Thin in 30 is the all new accelerated weight loss workout that can get your body in shape in just 30 days.
It is the quickest, most effective weight loss workout ever developed by the Firm. All it takes is just 3, 20 minute workouts a week.
The secret behind The Firm Express is a a revolutionary technique called Mini Bursts where you perform cardio and sculpting exercises in quick blast intervals.
It will help you get thinner, tighter and leaner faster than ordinary exercises. These specialized workouts can burn up to 9 times more fat than traditional cardio workouts.
With The Firm Express, you will be working out smarter and not longer to sculpt your thighs, buns, abs and upper body. Plus your body will continue to burn calories long after your workout is over.
This workout system is separated into these four cycles, which is specially sequenced to optimize weight loss results in just 30 days:
Cycle 1: Ignite
Cycle 2: Accelerate
Cycle 3: Turbocharge
Cycle 4: Overdrive
Get the Flash Player to see this player.
You can order The Firm Express for 4 easy payments of $29.99 plus shipping and handling or a single payment of $119.96 plus shipping. It comes with 12 workout DVDs, a Fitness Guide with a 30-day mix and match meal plan and workout calendar.
Plus with your order, you'll also receive a 7 day supply of the LifeMax Vitamin & Vitality Formula and a bonus Kick Start Your Metabolism Workout DVD for free.