ISO Bo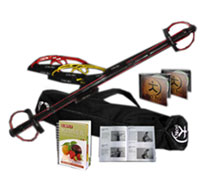 Sculpt your body anytime, anywhere with the ISO Bo system. You can build every muscle group with over 100 exercises.
With the ISO Bo you can perform over 300 Pilates routines, work out your chest and shoulders, your arms and legs, and back abs and core.
The secret behind the ISO Bo system is the power of ISOKenetics. It  helps you build lean muscles, lose weight, and get the sexy, slim body you want.
ISOKinetics is a series of dynamic contractions that stimulate the development of lean muscle tissue.  With the ISO Bo's slider handle technology you'll engage specific muscle groups for the full duration of the contraction.
The ISO Bo allows you to perform compound exercises that contracts various muscle groups, simultaneously. This results in more calories being burned in a shorter period of time.
The ISO Bo system includes:
ISO Bo Workout Device
Customized ISO Bo Travel Bag
Red & Yellow Resistance Band Sets
Harry Mok's Individual Exercises & Core Workout DVD
Christine Avanti's Simply Slimmer Nutrition Guide
ISO Bo's Quick Reference Exercise Guide
Get the Flash Player to see this player.
The ISO Bo retails for $99.99 but right now there is a special free trial offer available. You can try the ISO Bo system free for 30 days by pay the shipping and handling cost of $14.95. This special offer is not available in stores.