Ab Rocket Twister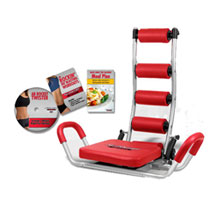 The new Ab Rocket Twister will target your core and help strengthen your abs. You can get the toned and amazing abs you've always wanted in as little as just 5 minutes each day.
You no longer to have to continually lift your neck and back with crunches in order to get great abs. With the Ab Rocket Twister, you just have to  sit back, relax and rock.
Theneck and back is comfortably supported through the contoured back rest while you exercise in order to minimize  any possible straining.
Not only does this new Ab Rocket rock back and forth to give you resistance both ways but now it also twists side to side so you can work out the obliques and get rid to those love handles as well. To move side to side you just have to release the twister pin.
In an university EMG testing, when compared to floor crunches, the Ab Rocket Twister produced 59% less neck strain and provided 107% more abdominal activity. Plus the study also showed that compared to Pilate's, it had 61% less neck strain and an amazing 233% more external oblique activity.
The Ab Rocket Twister is made with gym quality steel , is lightweight, and extremely durable. Plus it comes with 3 different levels of resistance that you adjust depending on your fitness level.
Get the Flash Player to see this player.
Through this current trial offer, you can try the Ab Rocket Twister in  your home for 30 days first, risk free by paying $14.95.
It includes the Ab Rocket Twister exercise machine, the 3 levels of resistance bands,  the Rockin Fat Blasting DVD, 5 in 1 Cardio DVD and the Blast Away The Calories meal plan.
If you decide to keep it after the 30 day period, you just have to make 3 monthly payments of $49.95. The product comes with a 30-day money back guarantee.