Space Bag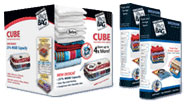 Do you have too much stuff and not enough space? Then Space Bag storage packs is what you need.
You can easily triple your storage space with these airtight, waterproof, and reusable storage bags.
Space Bags are convient and easy to use. You first pack the times into the Space Bag. Next you seal the air tight zipper. Then take any vacuum with a hose and vacuum out the air.
Everything will stay compressed and protected. The Space Bags are made with 4 layers of protection will ensure you items will come out in the exact same shape as when you put them in.
These space-saving storage packs are perfect for comforters, blankets, pillows, sweaters, jackets, seasonal clothing, and other bulky items.
Good Housekeeping has called Space Bags "a smart solution to cramped closets" and "a better value than plastic bins".
Get the Flash Player to see this player.
Right now you can order the 7 Bag Starter Kit for just $19.99 plus shipping and handling. It includes 1 Jumbo Cube, 2 Large Bags, and 2 Medium Bags. In additional, you'll receive an additional Jumbo and 1 Hanging Bag for free. That is a $60 value for just $19.99 plus shipping and handling.
Or you can take advantage of an even better offer with the Premium 14 Bag Package. It comes with 3 Jumbo Cubes, 2 Extra-Large Cubes, 2 Large Bags, 2 Medium Bags, 1 Hanging Bag. In addition, you also get 2 Large Bags, 1 Medium Bag, and 1 Hanging Bag free. It is a $130 value for just $49.99 plus shipping and handling.