Kangaroo Keeper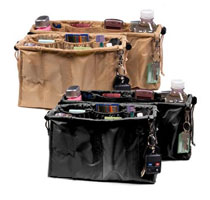 Disorganized purses is now a thing of the past with the amazing Kangaroo Keeper. It allows you to instantly organized any bag.
The Kangaroo Keeper is an incredible bag insert that holds us to 70 items. It will transform even the most cluttered handbags into an organized one.
It has a place for almost anything so you can easily find what you need. You won't have to worry digging for your keys or missing a phone call again because you can't find your phone.
Changing purses takes forever if you have a lot things but with the Kangaroo Keeper switching bags is a breeze.
The specially designed slots of the Kangaroo Keeper makes it easy to find your phone, makeup, glasses, coupons and cards. There's even a slot for your beverages and an umbrella. The center slot is for perfect for wallets and larger items.
Plus the Kangaroo Keeper is also reversible. This allows to switch the pockets to the outside so you'll have more room on the inside.
Get the Flash Player to see this player.
Each Kangaroo Keeper comes in a set of Large and Medium size for just $19.95 plus shipping and handling . The Medium Kangaroo Keeper is perfect for smaller bags.
But right now with this special buy 1 get 1 free offer, you'll also receive a second set of Kangaroo Keeper in black for free. You'll just have to pay the additional shipping.
That means you get 1 Tan Large and Medium Kangaroo set, 1 Black Large and Medium Kangaroo Keeper set, and the Perfect Purse Hook for just $19.95 plus shipping and handling.
But there's more because you'll also receive a free bonus Strap Perfect Kit with your order. It includes 3 clear clips, 3 nude clips, and 3 black clips.