Buxton Bag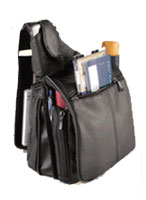 The Buxton Over the Shoulder Organizer is the biggest little bag ever. Use it to organize all of your belongings organized in one compact bag.
The Buxton company has been producing quality leather goods ever since 1898. This Buxton bag is made from quality supple genuine leather. It comes with a  22 inch adjustable over the shoulder strap. There is also an outer pouch for a cell phone and a credit card organizer.
 The all-in-one small design of the Buxton is small enough to carry with you anywhere. With the interior mesh zippered pockets you can use them to hold wallet, keys, glasses, and your cell phone safely and securely.
The outer zippered pockets allow you quick access to grocery store lists, to do lists, and even a water bottle. The Buxton is available in black, red, and tan.
Get the Flash Player to see this player.
You can purchase the Buxton now only for $19.95 plus shipping and handling. You also receive a My Lil' Reminder for free. It is a compact voice recorder with built-in flashlight.