Cleavage Clip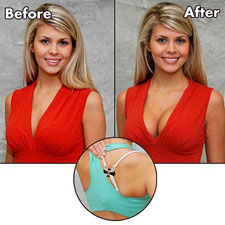 The amazing Cleavage Clip allows you to have perfect straps and the appearance of a sexy, full bust in just seconds.
Cleavage Clip is designed to immediately lift without padding and enhancers. Just clip the Cleavage Clip to the back of your bra strap and you're done.
Or add it to your bikini top for a shapely and sexier look. Say goodbye to sports bras that flatten you. It is like adding a full cup size instantly.
The benefits of using Cleavage Clip includes helping improve your posture, lifting and supporting your breasts, enhancing cleavage instantly, and adding fullness to any figure.
Plus Cleavage Clips helps eliminate falling bra straps and keeps straps from cutting into shoulders.
Get the Flash Player to see this player.
When you order a set of 3 Cleavage Clips for $!0 plus shipping and handling, you'll receive another 3 for free. That's 6 Cleavage Clips for just $10 plus shipping and handling.