Wash Wizard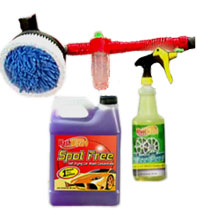 The Wash Wizard is the professional power wash wand that will make cleaning your car fast, easy and affordable.
Just hook up the hose, add soap and you'll have a professional power washer in the palm of your hands.
Like a professional car wash, the Wash Wizard has hundreds of soft touch microfiber cleaning pads. They spin inside the power wash head to gently cleanse and polish without scratching.
With the extension handle you can wash the entire windshield and even reach on top of the hood.
The Wash Wizard package comes Wash Wizard Power Washer, the Waster Blaster Extension, and now even includes the Spot Free Self Drying Carwash and the Wheel Wizard Brake Dust and Rim Cleaner.
Get the Flash Player to see this player.
Order the Wash Wizard now for just $19.95 plus shipping and handling. Plus you'll also receive a bottle of Shine Wizard and polishing cloth for free.
Update: This offer has expired