Swivel Sweeper G2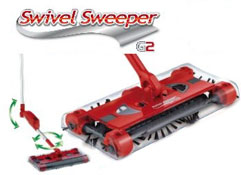 The Swivel Sweeper G2 is the new and improved version of the original top selling Swivel Sweeper. This new and improved  floor and carpet sweeper lets you clean dirt and messes faster and easier than ordinary cordless sweepers.
It combines the cleaning power of Quad Brush Technology – four sides of powerful rotating brushes along with a 360 degree swivel feature to easily maneuver around furniture and other objects.
It is powered by a Snap-N-Go 7.2v rechargeable battery that gives you 45 minutes of continuous cleaning. Plus the entire unit weighs only 2 lbs.
The super sliders allows the Swivel Sweeper G2 to easily glide across any surface for effortless cleaning.
The new features of Swivel Sweeper G2 includes a back saver elbow joint. The poles bends to clean hard to reach places so you don't have to.
There is now also a touch-less dirt tray. All you have to do is just press the tabs over a trash can or garbage bin to empty it. It couldn't be easier.
Plus with the magnetic storage latch, you can fold up the Swivel Sweeper G2 and it'll take less space to store than a broom.
Get the Flash Player to see this player.
Right now with this special buy 1 get 1 free offer, you can get 2 Swivel Sweeper G2′s along with 2 Free Mini Sweepers for just 2 payments of $19.99 plus the cost of shipping and handling. A free upgrade to rush shipping is included.