CarMD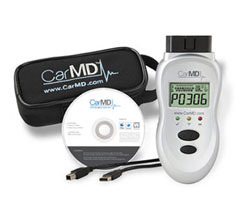 Now you can detect problems with your car ahead of time and save on repair bills with CarMD. It is an ingenious device that will very easy to use.
With CarMD you can find out why the check engine light on your car is on. You'll also know what repairs you need and their costs so you won't be ripped off at the shop.
The CarMD can also help uncover hidden problems in your vehicle ahead of time, before they turn into expensive repairs.
It is like having a personalized doctor for your car. You could use it to identify simple problems you can take care of yourself. CarMD can also tell you if your vehicle will pass its emissions test.
To use CarMD, you simply plug into a port found inside your vehicle. It works with all 1996 and newer cars, light trucks, minivans, and SUVs sold in North America. This includes domestic and foreign cars.
CarMD will communicate with your cars onboard computer to diagnosis any problems. Afterwards you just plug it into your computer to get the results. It is compatible with both Macs and PCs.
Get the Flash Player to see this player.
The CarMD kit comes with the CarMD tester,  a quick reference guide, CD software, demo video, a USB cable to link CarMD to a computer, and a handy zipper storage pouch.
You can order CarMD for only $199.8 plus the cost of shipping and handling. It comes with a money back guarantee.