Tool Band-It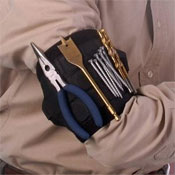 The Tool Band-It is a rugged, flexible, and lightweight magnetic armband that keeps your tools and work pieces within easy reach.
It uses powerful, rare Earth magnets to securely hold everything from screws to wrenches.
When two hands are not enough, everyone turns to the Tool Band-It. It is perfect for use during house repair work, gardening, craft projects and so much more.
With the tool bandit you don't have to worry about drop nails or screws or having to hold many tools at once.
Use the Tool Band-It to keep your tools and parts within reach. The patented design is rugged, lightweight and flexible. It easily fits around either arm.
The powerful space age magnet technology securely holds everything from screws to wrenches. A job for two people can now be done by just one.
Get the Flash Player to see this player.
Right now when you order the Tool Band-It for $19.99, you'll also receive an LED Head Lamp, a $20 value, for free. Just pay the cost of shipping and handling.