Tell Bell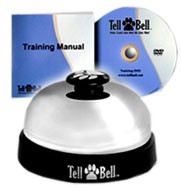 The Tell Bell is the easy way to potty train you dog. It makes when pet gotta go as clear as a bell.
The system is designed to let your dog communicate to you that he or she needs to go outside to potty.
Just follow the included instructions and you can have your dog using the Tell Bell in as little as 10 to 12 days.
Whether it is large dogs or small dogs,  puppies or older gods, the Tell Bell well work great. It makes potty training both easy and fun.
With Tell Bell your dog not only learns where it is okay to go and where it is not. They will also learn to tell when they need to go.
Get the Flash Player to see this player.
The Tell Bell House-Training kit comes with 1 Tell Bell, DVD, and instruction manual. Right now you can order it for just $19.95 plus shipping and handling. As a special bonus you'll also receive Get Bags on Board and the Pet Record Book free.
Update: This offer has expired