Potty Patch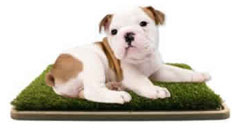 With the Potty Patch, your dog can go whenever it needs to. It is a doggie restroom perfect for patios and indoor use.
Your house will no longer be one huge doggie bathroom and you no longer have to come home to find a mess or suprise.
The Potty Patch is so easy to clean, you just rinse with soapy water. It is great when your pet can't go outside.
The Potty Patch is mad up to 3 tiers. The first is a soft artificial grass specifically designed to let liquid flow through.
The second tier is a grate keeps the grass dry and above any liquid.
The last tier is a collection tray that holds up to a gallon of liquid, which allows for multiple uses.
Get the Flash Player to see this player.
Right now when you order the Potty Patch you'll get a free upgrade to a super plush anti-microbial grass with double the blades.
Get the regular 17″ x 27″ Potty Patch for just 2 easy payments of $19.99 plus shipping and handling. Or order the large 27″ x 34″ Potty Patch for an additional $30.