Pet Vac Grooming System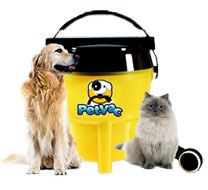 Say goodbye to unwanted pet hair with the Pet Vac Wet & Dry Pet Care and Grooming System. It transform any household vacuum in a pet groomer.
You simply attach the PetVac to your vacuum using the included adaptor and then start your vacuum.
It will provide hassle free grooming for you dog or cat. It is gentle and pets love the feeling.
The hair and dander that is normally shed all over your home is gently removed from your pet and deposited in Pet Vac.
Your pets won't be scared because with the extra long suction hose, they won't see the vacuum or hear the noise.
Get the Flash Player to see this player.
You can order the Pet Vac Grooming System for just $29.95 plus the cost of shipping and handling.
With your order you'll receive a Vacuum Lint Brush adpater that removes pet hair and lint from furniture, clothes and more with ease.
In addition, you'll also receive a a free de-shedding shampoo and conditioner for your pet, a shed eliminator, and lint brush. Just pay the additional shipping cost.
Update: This offer has expired