Back Yard Buddy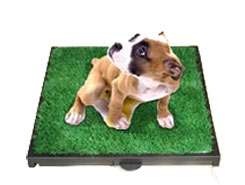 Prevent pet accidents in your home with the Back Yard Buddy. It is an indoor dog potty that is made of a synthetic grass like material.
Back Yard Buddy is designed to help prevents stains and can easily be rinsed clean and reused in just seconds.
Unlike dripping newspapers or expensive wee wee pads, Backyard Buddy's reusable surface stays fresh and sanitary.
It has a triple stage protection that allows fluid to pass through the antimicrobial mat.
The mat stays high above the liquid in the collection tray with the elevated grid system. All you have to do is simply empty the collection tray and rinse it at the end of the day.
Back Yard Buddy is perfect for older dogs, potty training puppies, dogs with special needs, during stormy weather or snow storms, in high rise apartments and condos, or when you have to work long hours.
Get the Flash Player to see this player.
The Back Yard Buddy comes with an antibacterial mat, Back Yard Buddy base, and collection tray. In addition you'll also receive a free Buddy's Bath Towel. Order now for just $29.99 plus shipping and handling.
Update: Back Yard Buddy is currently backordered.  We recommend the Pet Zoom Pet Park and Potty Patch as alternatives.