Mega Blueberries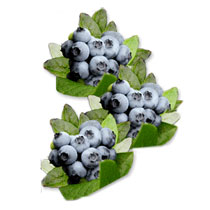 Mega Blueberries are the fast growing plants that lets you grow tasty blueberries by the bushel, right in your own backyard.
When each Mega Blueberry plant matures, it can produce a bucket full of juicy jumbo blueberries every season that is worth up to $200.
You can now enjoy fresh blueberries whenever you want without having to buy the expensive frozen blueberries at the market again.
Mega Blueberry plants are easy to grow, naturally hardy and pest resistant so you don't have to use any chemical sprays. Plus since they naturally ripen, they taste so much better.
Blueberries goes great in smoothes, pancakes, cereals, muffins and much more. Not only do they make a delicious snack but they are also a healthy snack. Blueberries are high in antioxidants and their anti aging benefits have been well documented.
Get the Flash Player to see this player.
For just $15 plus shipping and handling you can get 2  Mega Blueberry Nurseryman's Starter Plants. But there's more because with this current offer you'll receive an additional Mega Blueberry plant for free. You just have to pay the additional shipping.
Update: This offer has expired