Flower Power Mat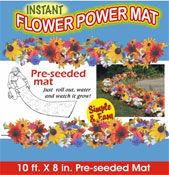 The Flower Power Mat from Gardener's Choice allows to grow thousands of flowers without ever dirtying your hand.
Having the garden of your dreams can't be easier. It is simply the easiest way to garden.
Each Flower Power Mat has 1,000 seeds with a huge variety of flowers.
It includes Cosmos, Larkspur Rocket, Pink, Sage, Verbena Moss, Strawflower, Marigold , Zinnias, Alyssum and more.
With the Flower Power Mat, it costs less than pennies a plant and does almost all the work for you.
All you have to do is position the mat, cover it with some soil and water then watch it grow.
You can easily cut the Flower Power Mat to fit pots, containers, and any garden spot to create decorative accents around the yard.
Get the Flash Player to see this player.
Order the Flower Power Mat for for just $19.95 plus shipping and handling and you'll receive a second for free. Just pay additional processing.
Update: This offer has expired