EZ Jet Water Cannon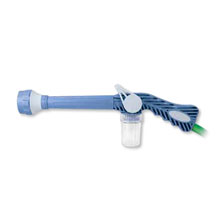 With the EZ Jet Water Cannon, you'll get the power of a pressure washer and the convenience of a garden hose combined.
It attaches to any garden hose and lets you clean your house, cars, boats, RVs and decks with ease. You can also use it to water you garden, spread fertilizer and much more.
The EZ Jet Water Cannon makes cleaning the tires and rims on your car a breeze. Use it to reach high windows or blast away dirt and grime on your sidewalks and walkways.
There are 8 different built in hoses on the EZ Jet Water Cannon that you can adjust to with just the turn of a dial. You can set it to be powerful enough to reach second story windows or gentle enough for watering fragile plants and gardens.
The EZ Jet Water Cannon is capable blasting your pool filters clean. Plus you can also fill it with liquid fertilizer and treat your entire lawn quickly and easily.
Get the Flash Player to see this player.
You can get the EZ Jet Water Cannon along with a concentrated window wash for just $19.99 plus the cost of shipping and handling.
But there's more. You'll also receive the EZ Spotless Car Wash and 2 Amazing EZ Sham chamois clothes with your order as free bonuses. You just have to pay the extra shipping cost.
Update: This offer has expired